Everybody knows what's so special about today,its the day of the Royal Wedding. I remembered me talking to a classmate yesterday saying that I'd skip class to watch the Royal wedding,at first it was a joke,but then I really did skip class today. I also heard some people asking who is getting married & who is Kate & William,I rolled my eyes when I heard that,one of the silliest things I ever heard,fags. The problem was,I was in a dilemma bc I didn't know which channel is better to watch,stuck between NTV7,TLC & E! Guess which channel I chose in the end :D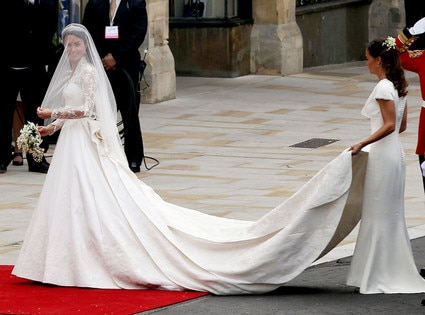 Behold! The dress that we (me) waited all along. Did I love it? Yes I did! (Duh) Not only because it was designed by Sarah Burton,which is the creative director of THE Alexander McQueen!
The dress was elegant,classy,something you wouldn't make fun of in the future bc of its classic-ness,I'm proud that she is really smart to choose something that has a very classy look,long-sleeved lace,sexy but appropriate. Made with ivory & satin,it looks like scallop silk,which I think it is,a V neckline,a simple veil,simple hairdo & a simple Cartier tiara & most of all,an 8 foot long train,not dramatically long like the late Princess Diana,or else Pippa (Kate's little sister which is her maid of honour) would have trouble holding the whole damn thing. I love it all! She is truly the modern day Princess
♥
♥
♥
♥
♥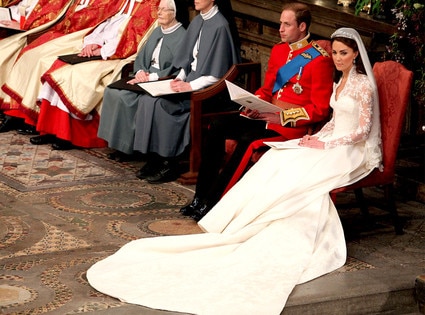 Tada! I tweeted right after I saw Victoria & David during the wedding,David looks gorgeous as usual but look at Posh Spice! (Posh indeed). She's wearing a her own line of clothing,which is really smart of her,so pregnant mama's would wanna wear what she wears. A sleek ponytail to compliment her look.
Princess Eugenie & Beatrice,they sat behind Queen Elizabeth,look at those head gear! Are these 2 trying to outdo Lady Gaga? Most probably. Princess Eugenie,the 1 in blue,is honestly terrifying.
Pippa Middleton,gorgeous eh? Her dress was also courtesy of Alexander McQueen.
Both so handsome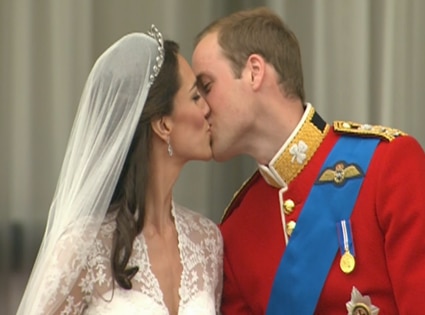 Very short but sweet kiss on the balcony
What else can I say? I skipped school just to watch them get married,a friend of mine even complained on how expensive their wedding is. The whole wedding is nothing but beautiful & lovely. The only thing that saddened me is that the camera man seldom zooms on Prince Harry,LOL.. I am in love with him,he is like 10 years older but who cares? And oh yeah,Prince William is getting balder,look at bald spot on the top of his head,wooopps.
Hmm..when is it my turn to get married to a prince?
Stay tuned for my other surprise post!
(photos courtesy of E! online & Perez Hilton)